They crossed the line – and Trump is making them regret it!
We are all aware of the situation going on at our Southern border. The Northern Triangle of countries has been letting people march to the United States.
They cross Mexico to reach our border, demanding asylum. Many who are denied have been jumping the border, creating overcrowded detention centers and other challenges.
President Trump has performed miracle after miracle to end this problem. All while Congress does nothing—and blames him for everything.
A deal was struck that asylum seekers have to stop at the first country they reach. They can only apply for asylum there, and not continue to the U.S.
Mexico has been doing good at keeping to this agreement. But one country has not, even though they signed on to it.
From Twitter:
Guatemala, which has been forming Caravans and sending large numbers of people, some with criminal records, to the United States, has decided to break the deal they had with us on signing a necessary Safe Third Agreement.
Guatemala shares a border with Mexico. Because of this, many migrants from further South reach it long before they reach Mexico or the U.S. That means asylum seekers have to stay in Guatemala and apply there.
But Guatemala has rejected the deal they signed and are letting migrants march northward. So, Trump is taking major action: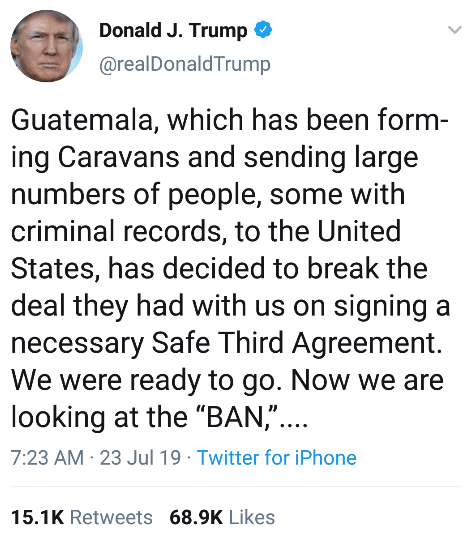 And then he finished hard!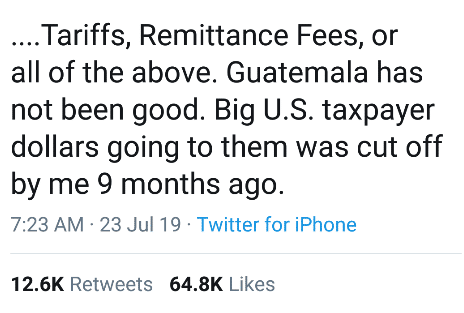 If you can't read it, this is what he said: "We were ready to go. Now we are looking at the "BAN,"….Tariffs, Remittance Fees, or all of the above. Guatemala has not been good. Big U.S. taxpayer dollars going to them was cut off by me 9 months ago."
Woah. Trump is hammering Guatemala with a flurry of action. He is threatening tariffs, remittance of fees, and more.
He already cut off aid to the country nine months ago. After all, why should we be shipping millions of dollars of aid to a country that refuses to do anything to stop the migrant exodus?
That aid was supposed to improve the quality of life for its citizens. But still, hundreds of thousands left.
That suggests that Guatemala's government was taking the money and doing little to help their people.
On top of that, they didn't bother trying to stop so many from leaving. Cutting off funds was a necessity.
They could have sparked a new, better relationship with the United States, had they bothered to make good on the Safe Third Agreement.
But they couldn't even do that! Guatemala really thinks we're a bunch of chumps, huh? Or maybe they were so used to dealing with Democrats, who just bend over all the time, that they thought they could do the same to Trump.
Sorry, kids, Trump's no chump. He makes good on his word—something Guatemala is unwilling to do.
If they were smart, they'd reverse course immediately.
SHARE to thank Trump for standing up to South American bullies!
Source: Twitter